How young Lucie Sommer became SOMMERLICHT ("The Light of Summer"). I was born one night when a fall of snow ended a few sunny days and covered the coltsfoot flowers in the pretty alpine village of Waltenhofen in the late Bavarian winter of 1957. The priest and the clerk of the town had a row about the way to spell my christian name. So I was baptized as "Lucia" and registered as "Lucie" - both names derive from the Latin word "lux" - meaning light. My husband's name "Leix" has no strange hidden meaning, but methinks it might contain a transcription error. In former times, when everything was written by hand, it was common to differentiate the letters "u" and "n" by writing a line over the "u", somehow thereby preventing false spelling. Presumably a poorly written "u" was taken as "ei", changing the original "Lux" to "Leix". In this way my christian and married names reinforced my maiden surname "Sommer", "summer" in German, the season during which the period of daylight is longest. "SOMMERLICHT" ("The Light of Summer") is thus the essence of all my names.
Inspiration
My passionate interest in people predictably focussed my work on "Man"as in "HuMan" and more especially, being one myself, "WoMan". The female viewpoint motivates me. I watch a feminine universe evolving, full of colours, shapes, where Beauty surpasses Eros. Please feel invited to discover the ironic, humourous, sometimes dramatic and present-day messages hidden in my usually intricately detailed works. The WoMan portrayed varies sensually and bodily. At first we might perceive her colourful, energetic curvaceousness - strong, proud, full of grace; then perhaps a slender, sensitive being; simplicity itself, poetical, light and lyrical, with mood changes, to and fro. To begin with she is in tender and delicate retreat, then she swings into dynamic action, liberating into pure colourfulness. I attempt to show the free, magical and also rebellious parts of WoMankind. Often amazed, astonished even, I wonder and worry about the distorted mirrors produced by our society, ever more ubiquitous and powerful. The constant rise of unthinking self-centredness and the ever-changing codes of beauty stimulate me to carry out my work. These impulses generated the colourful, energetic, encorsetted ceramic sculptures called "Tausendschönchen" ("A Thousand Beauties");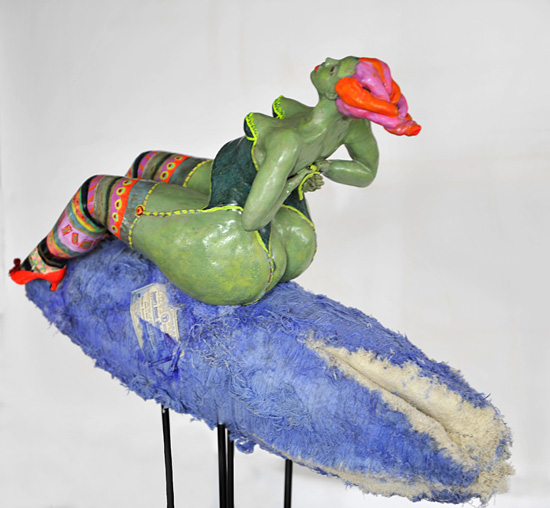 strong, proud, extravagant, graceful but also unrestrained, insolent, ironic, sensual-melancholic and erotic. They were probably subconsciously inspired by the Czech film "Tausendschönchen" of Vera Chytilova, translated as "Daisies"in English. The movie was censored in 1966 - it was nevertheless acclaimed as a milestone by film-makers and film-lovers alike, because it remains politically relevant, experimental and highly amusing. Like many of us living in contemporary society, as a spectator, I am continuously influenced by so many images and impressions; human relations, media, exhibitions, journeys and by the experiences of my personal life, my past.
My Work
Certain realistic paintings and sculptures contain open stories. At first glimpse the obvious - like the lemon in the painting "Mauerflüstren" ("Whispering Wall")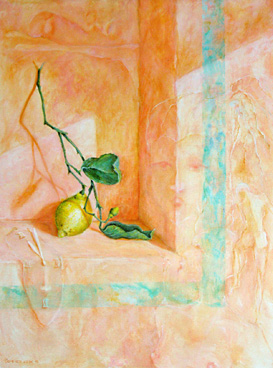 for the philosophically-trained eye, six other items form part of the wall. This is the "story within a story", an imaginary journey in a strange world, which will always remain a personal experience. Then on to the "Seelenlustgarten" ("Soul's Pleasure-Garden").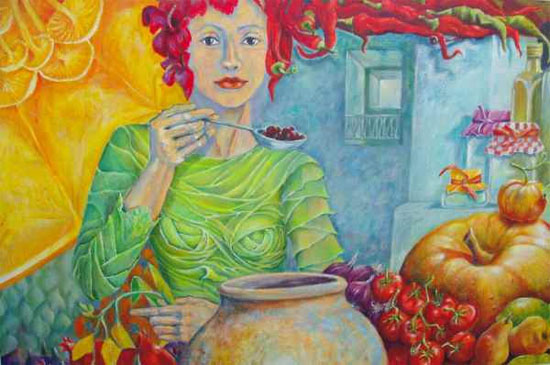 Why is the woman dressed in a robe made of cabbage-leaves looking like lace? What does it mean, when a hand holds a spoon filled with symbolic olives? in a manner that is open to many interpretations? Are the olives offered to somebody else or meant to be eaten by herself? Might they be scattered on the ground and wasted by a careless movement? This painting suggests, like all my other work, that many other mysteries are waiting to be discovered. They can serve as a vehicle for your own stories and personal interpretation. And now let us cast a critical eye on "Vielbeschäftigten ("Busybodies").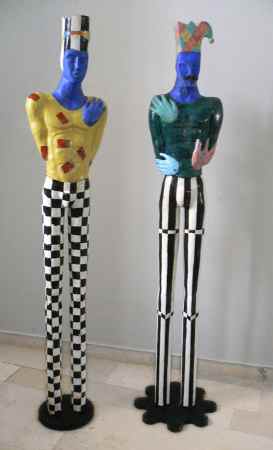 My intention was to portray those people who, with more or less craft and trickery, exercise control over their lives and their environment. They try to get a "good grip" on everything. My intention was to encourage them to "slow down", to bring into their consciousness how valuable our life energy is: it is not made to be wasted in static, black and white grids, which kill our spiritual balance and tolerance, our time for imagination and inner voices. The exaggerated appearance of a "Narrenkappe" ("Clown's Cap"), worn like a crown on the head, probably shows us - even accompanied by praises and some slaps on the back that it is not an icon for a long sought after happiness, merely an uncomfortable weight. Beware of attractive or sparkling appearances in my work!
Materials, working techniques
The traditions of painting, colouring, ceramics and sculpture combine with my need for autonomy. Working techniques I use are abstract, realistic, traditional and experimental. "Keep trying" has always been my guiding principle. Objects and sculptures are made of terracotta. Many of them are fired upwards of 1240°C and glazed so they become frost-resistant and can stand environmental stress and weathering, even better than bronze and granite. Additionally, glazing offers all kinds of shades and colours! With objects like the contemplative "Sitzsteine" ("Sitting Stones"), both the sculptures and paintings, every single piece of work is made by hand, with utmost attention and care. Elementary balance and aesthetic harmony are absolute values of the human spirit. Art is not automatically "minor" if it becomes colourful, gentle, aesthetic or even decorative. Controversial art is not automatically the best or finest. It is the ambition of art to touch and to leave lasting impressions behind. Whether art is trivial, primitive or inspiring depends on the individual's mind and appreciation. The clich that an artist should be inspired by a Muse constantly and that inspiration and realisation just "happen", do not correspond to the reality I experience. Behind every seemingly simple and effortless work is a lot of labour, discipline, perseverance, patience and also passion. This drives me onwards to the point where I experience contentment and to the conviction that my work represents my special gift to others.
Should you have an idea for a painting or a sculpture, please contact me. Perhaps we can realize your dream together.
Thank you very much for reading this.